Developing and supporting news sites for over 10 years 🖤. Media websites are our expertise.
At first glance developing a news website may seem a challenge. Media pages are popular and known for high load and traffic.
Even regional media sites can obtain dozens or hundreds of visitors daily with the right approach.
HOW TO MAKE NEWS SITE TRENDY?
Foremost unique and useful content is required, otherwise the webpage won't be interesting.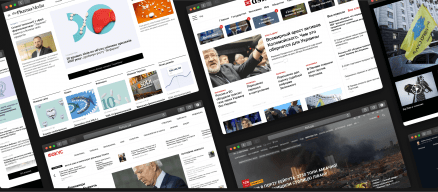 MEDIA WEBSITE SPECIFICATIONS
Aspects to consider when developing a media website.
Providing reliable information, unique design and unconventional solutions for content to display. Under no circumstances allow using templates.
Creating different news formats convenient for reception and further sharing like video news, photoshoots, articles, analytics, live streams, compilations, interviews, reports etc. In addition, websites should enable sharing in these formats on various social networks and search engines using their publishing tools like Instant Articles, and Google AMP.
Be able to endure high loads. The proper website architecture is required to increase traffic anytime, and be fast enough according to Google Page Speed demands.
Be protected against attacking. Information on news websites should correspond to editorial opinions and values and it must be secured from outsiders' interference in its work and content.
Own a practical admin panel, which is a main editor's and reporter's tool. It has to be user-friendly and fast, have a lot of useful features like checking content, instant translation, option to insert and process static animated images.
Have the possibility to expand by filling and adding up new features to the website, inventing new formats of storytelling, presenting and adapting content and interfaces to the new tasks and needs.
Be multilingual. Any website in Ukraine has to be presented in Ukrainian. However, many of the sites inherited Russian content and some of them also include the English version. The website structure, CMS commitment, news exports, APIs, mobile apps, are the significant features when choosing the product.
NEWS WEBSITE MODULES
News websites look alike, but differ by internal structure and functionality.
HOMEPAGE CONSTRUCTOR

Our news websites let the editorial build the homepage in accordance with their tasks. For example, on weekends the main page shows up as an invitation to read a few analytical articles and texts. At times when there are some emergency events the advantage is given to livestreams and news alerts. Once there is a topic of the day, then certain categories or news on that topic are added to the feed or even fixed in the website structure. All of this is described in more detail in our case about how we made Бабель.

Homepage with various kinds of publications.

MEDIA STORAGE

Our websites are equipped with a remarkably practical module for processing mediafiles (images, photos and videos). Cropping photos into thumbnails, reusing and inserting them into the news body is done instantly and does not require extraordinary knowledge of working with html/web and skills in Photoshop.

PREVIEW SYSTE

Preview system allows the moderator/editor to see the news/text before publishing the content. This article won't be loaded to the newsfeed, categories or external resources. It will only be available by temporary URL locked from indexation without a sharing option.

Publication in the CMS panel with the ability to preview.

MICROSERVICES

News holding websites like TSN include many microservices (separated programmed products provided by the site), responsible for specific tasks. For instance, a visual microservice receives the image from the editor, processes it by optimizing, cropping the thumbnails, storing them to relevant servers and returning the links of saved files. Video microservice identically processes video files on dedicated server capacities. Push-notifications microservice sending the info reminders to the users. Separate microservice is in charge of longreads and special projects.

EMBED SYSTEM

Modern media world operates the content from various sources and social networks. CMS panel builds a practical workflow where the visual rendering 100% corresponds to the website version.

BANNER SYSTEM

Managing banner spaces on websites, accessible replacements and control of the display is done through the advertiser interface. Developer interference isn't required for placing a banner or replacing a network teaser on the site.
PRINTED PRESS WEBSITES
Forbes and Фокус are printed magazines that fully develop online media aimed to its own audience and area of expertise.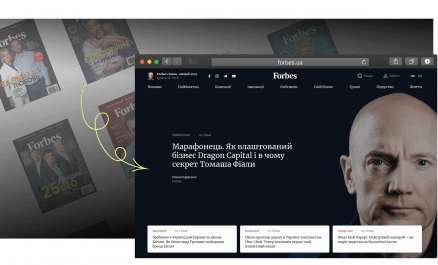 The functionality of these sites differs by their content. At the same time they are united by a powerful software product that ensures the smooth operation of these media.